We take a look at the latest e-wallet seeking to create a national loyalty currency: Swapi.
Swapi, the new loyalty e-wallet platform, has announced that it has closed its latest funding round at £860k ahead of its October launch. This positions the fintech in a prime position to launch its services with over 100 international brands.
Creating a national loyalty currency
The fintech seeks to revolutionize customer loyalty, which has been declining in recent years. It will do this by creating an all-in-one wallet for payments and loyalty cards, and introducing a new currency called 'Swapi Points.' Swapi Points will let customers spend on rewards, rewards, coupons and discounts on the app, irrespective of which retailer the customer has accrued their points with. By including this feature, Swapi hopes to support the recovery of retailers from Covid-19 while reinstating the value of customer loyalty in a way that frees customers to spend their loyalty points in a way that supports their needs and lifestyle.
Swapi founder and CEO, Pete Howroyd, said: "Our latest addition to Swapi's growing suite of products, Swapi Points, will revolutionize the way retailers and consumers think about and interact with retail loyalty for the foreseeable future. With the Swapi app, we aim to encourage greater collaboration to the retail space by offering loyalty points to customers irrespective of brand, company size or location. Customers can engage and purchase from their favourite local and national retailers and brands, and through those transactions open up a whole new world of rewards and perks via Swapi Points."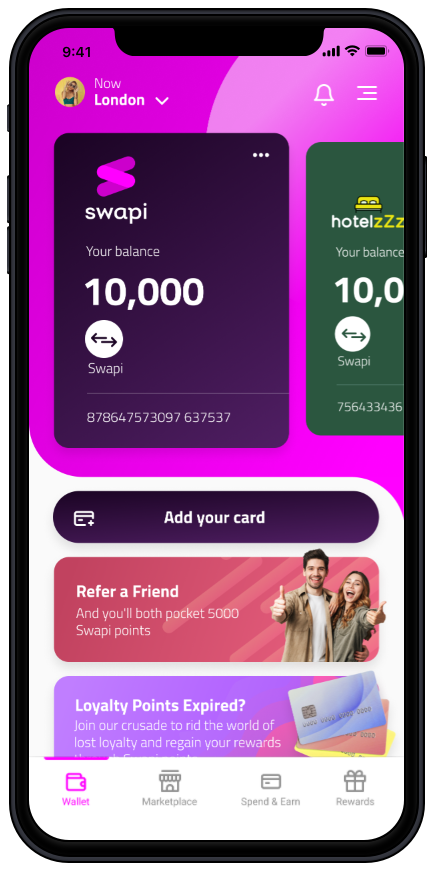 The next steps for Swapi
Since incorporating last year, Swapi has been cultivating funds from numerous backers, including Trampoline Ventures, Gousto, Mediquo, a Spanish and Latinamerican telemedicine platform, Argentinian cryptocurrency payments platform Lemon Cash and Singaporean BNPL start-up Octifi.
With the closure of this pre-seed round, the team at Swapi can now focus on bringing the app to the market, while ensuring an excellent standard of customer service. In addition, this funding will support the expansion of Swapi's workforce to ensure that these goals are achieved. One notable change in the workforce that the e-wallet company has made is the appointment of Carolina Paradas-Mandato as the Head of Strategic Partnerships. Paradas-Mandato leaves her position as Global Senior Affiliates & CLO Manager at Harvey Nichols, and will now be responsible for Swapi's expansion into international territories while also handling all affiliate relationships across the 100+ brands that are working with the fintech.
For Howroyd, this funding is another clear affirmation that the retail loyalty industry is in need of innovation: "Everyone at Swapi is ecstatic with the amount we have managed to raise during this pre-seed round. As we get ready to launch this Autumn, the funds are already proving vital to making the app the best it can be, as well as bringing in fantastic new additions to the team like Carolina, who we are delighted to welcome to the team. With Carolina's experience, we're confident we can bring globally-recognized brands onto the Swapi app as we prepare to revolutionize the retail loyalty environment for the better."
READ MORE:
About Swapi
Swapi is transforming loyalty for good, and making it a whole lot more rewarding. Collect Swapi Points with a host of leading retailers, hotels, airlines and more, then use your loyalty points your way, with more choice and more control than ever before. Convert them in the Swapi Marketplace or, soon, swap all your loyalty balances between brands for an even wider selection of amazing rewards.
For more news from Top Business Tech, don't forget to subscribe to our daily bulletin!