The Scaleup Spotlight: How DownYourHighStreet.com seeks to save the highstreet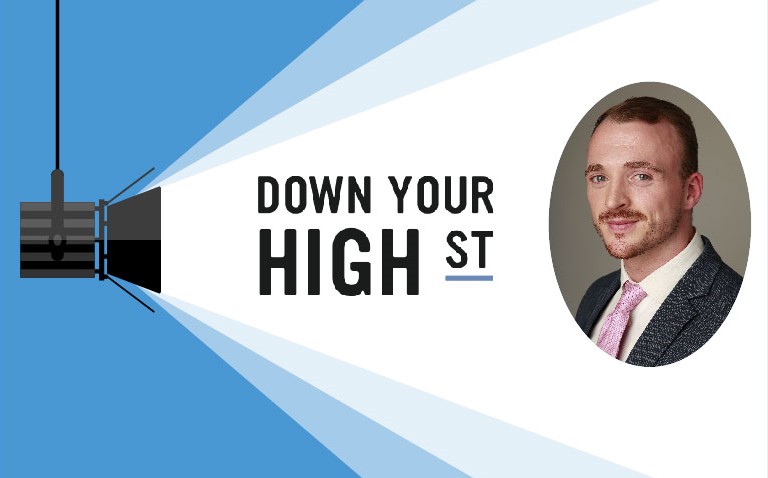 Do you love your local independent high street stores but also love the convenience of online shopping? DownYourHighStreet.com is combining both. Here we chat with CEO and founder, Daniel Whytock.
Could you tell us a little bit more about DownYourHighStreet.com
Launched to the world in August 2019, www.downyourhighstreet.com is a marketplace where shoppers can find over 100,000 products from independent retailers all in one place.
A third of all products can't be found on other marketplaces as independent retailers are understandably particular about where they sell. Our competitive commission and free to join platform allow them to trade on a level playing field online. Our mission is to create the world's longest high-street online, by connecting the community with commerce and giving the Great British High Street an online presence.
There are 200,000 independent shops in the UK, and we estimate around 200million products, some of which will be either made by them, locally sourced, or hand-picked. Many of these small shop owners have created their business following a career in that industry. They have an abundance of experience to share with customers, which you just wouldn't find on normal marketplaces or chain stores.
Although we come from a retail background with advisors from the top of companies such as Ted Baker and Burberry, we have grown to become a tech business. We now have support from industry experts from companies such as 123reg, and Salesforce.
How do you differentiate yourselves in a saturated market?
We are an aggregator and curator of independent retailers and their products. Every one of our sellers has a brick-and-mortar store and is independently owned. We do not accept applications from chain stores or online-only sellers, so our sellers can be sure that they are the key reason we exist. We will never sell products ourselves.
Our platform integrates to all major e-commerce websites allowing our sellers to sync their catalogue of products seamlessly with no cost to them, saving them time and money to get started online. Our next launch is a sales channel with Shopify, which will bring our partnership with Shopify to the High Street, allowing sellers to sync stock and keep track of their orders and delivery details within their Shopify Sales Channel.
What was your last major milestone?
In Q4 2020 we created £580,000 of sales for independent retailers while their stores were closed to the public. In January the same year, we generated just £15,000 in sales and so the growth to over half a million pounds in sales is something we are very proud of.
This financial year we have grown sales on the platform 400% compared to the last, and we are excited to do it again over the coming months as we aim to drive the company to become a recognised household name.
How has your company adapted to the outbreak of COVID-19?
We have experienced both benefits and challenges from the pandemic. More people shopping online is an amplifier to our website traffic, but physical retailers closing their stores meant some could not ship and had to pause their account. We doubled down on local advertising and enabled local shops to offer a click and collect service according to government guidelines.
Our team left our office in Moorgate London during the first lockdown and has worked remotely ever since, and we have a small space in Hertford, Hertfordshire, where we meet for important meetings. We hired two more people in our customer support team and three additional development resources to help us achieve our technology targets during the pandemic.
Our product offering has shifted through this time too. If an independent retailer sells a product on the high street, then it can be sold on our site, but the user dictates what sells really. So, we have seen a huge increase in the sales of gaming, kids toys, and homeware products, while fashion and accessories have declined. Now, people seem to be buying for the garden and holding off summer fashion purchases until we know the rules on travel. So, supposedly 40% of growth online will continue for online retailers post-pandemic.
How do you see the industry changing in a post-COVID-19 world?
The high street has needed a digital presence for 20 years, and the pandemic has forced this change to happen. Now, we see a hybrid online/offline retail model becoming the new normal, with retailers having fewer products in-store focusing on experiences. In contrast, their online offering has a much wider catalogue. This helps reduce costs from rent and rates and increases revenue due to their customers' omnichannel, seamless journey. Hopefully, landlords can meet this change and help the high street thrive with reduced rents to invite more digital brands to open high street stores.
READ MORE:
Since the pandemic started, it's clear that independent retailers have been forced to adapt and offer their products online. As you will see on TV and in the press, we have launched the #THINKWHEREYOUSHOP campaign, encouraging shoppers to look beyond the top search results when they have time to find more local businesses which are likely selling what they need.
About Daniel Whytock
CEO, DownYourHighStreet
Daniel Whytock is CEO of DownYourHighStreet.com – a free to join, low commission online marketplace on a mission to create the world's longest high street by connecting the community with commerce and giving the Great British High Street an online presence. DownYourHighStreet.com hosts thousands of previously unavailable products online, from100s of independent retailers, allowing sellers to create or integrate their online presence, saving them time and the costs traditionally associated with establishing a visible online presence.
For more news from Top Business Tech, don't forget to subscribe to our daily bulletin!